Option Auto-cleaning unit for OMC-N2
---
Extends the interval periods between maintenance works
Automatically injected water keeps the collection unit of MISTCATCH OMC-N2 clean

Cleaning takes place without interrupting oil mist collector's operation.
No air piping works required. Easy installation.
Control unit can be separately placed.
Large tank capacity of 20L & High-lift pump of max. 3m
Applicable to wide voltage range from 100V to 240V AC
Easy-to-read digital display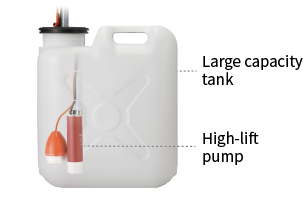 | | | | | | |
| --- | --- | --- | --- | --- | --- |
| EU RoHS2 | China RoHS | CE | UL | CSA | PSE |
Model

OMC-ATW-N2-AW

Rated voltage

Single phase 100 to 240VAC

Rated power consumption

Approx. 60W (during pump operation)

Working temperature

0 to 40℃

Working humidity

85% RH or less, free from condensation

Injection amount (at 1m lift)

Approx. 8 mL/sec.

Injection time (fixed value)

0.5 sec.

Stand-by time

10 to 199 min. (Default 20 min.)

Max. lift height

3m

Washing liquid

Water (0 to +40℃, ice-free)

Water supply

by Tank (20L)

Operation

Timer operation (Default: Spraying water for 0.5 sec. every 20 minutes)

Conformity to standards

Environment

RoHS2

Power cable length

3m

Applicable models

OMC-N2** and OMC-N2**H

Dimensions
(in mm)

Control unit *1

W135×H163×D120

Tank

W360×H415×D206

Weight

Control unit *1

2.5kg

Tank

1.5kg
Remark *: Pump, Float switch and Power cable are excluded.

---
Expanded view of Injection nozzle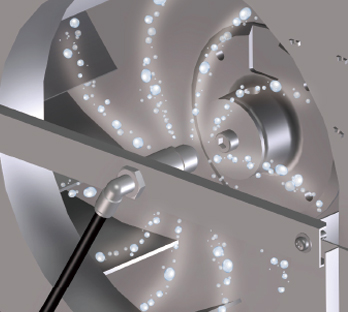 The pump is activated according to the time setting of the control unit to feed water in the tank to the MISTCATCH.
Water is sprayed from the center part of Collection Unit of MISTCATCH.
Turbo Fan accelerates the speed of water droplets to collide them against the inner wall of Collection Unit.
With periodical water injection, dirt accumulation in the Collection Unit is prevented.
Verification of use effect
The following pictures show how effectively the dirt accumulation and decrease of airflow as its result were prevented by using the auto-cleaning unit.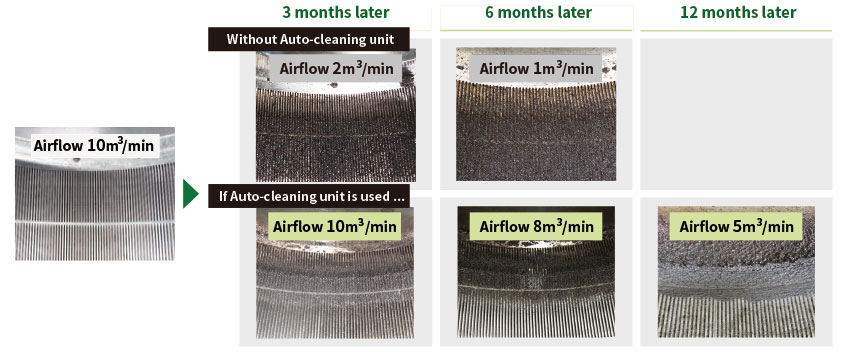 【Test conditions】
Model: OMC-N210H, Workpiece: Aluminum, Cutting oil: Water-soluble, Operating time: 20 hours/day, Lifting height: 3m
*Operation time of Auto-cleaning unit: 0.5 sec. every 20 minutes
---
・This product has been designed to clean the Collection Unit of MISTCATCH OMC-N2 series. Never use it for any other purposes than original intention.
・Do not operate this product with its cover open.
・Never tamper or repair the product. Please contact us if repairing need arises.
・Avoid using this product at a place where it is largely affected by vibration or impact or a place where it is exposed to water or oil.
・Working environment should be within the temperature range from 0 to 40 deg.C with humidity range from 35 to 85%RH, free from condensation.
・Supply the rated voltage only.
・Electrical connection should be done via an appropriate circuit breaker.
・Do not use this product with other mist collectors than our OMC-N2 series.
・Apply one product to one MISTCATCH OMC-N2. Connecting to two or more units can be a cause of failure.
・Electric works required for installation should be done by professionals or qualified personnel.