---
Indoor enclosure cooler COOLCABI
Ultimate solution for enclosure cooling!
It is important to cool electronic components inside an enclosure to reduce downtime and increase machine utilization. COOLCABI keeps enclosure interior at an ideal temperature without allowing entry of oil mist and dust from outside air.

Environmentally advanced enclosure cooler using the refrigerant R1234yf
SAFETY
Eco-friendly and safe refrigerant
R1234yf is a popular refrigerant for car air conditioners and vending machines
ECO-FRIENDLY
Global warming potential (GWP) <1
*1
Zero ozone depletion potential (ODP) as well. Extremely eco-friendly.
ECONOMY
Low maintenance and disposal costs
Reduces legal inspection or waste disposal costs required by law in some countries.
R1234yf was developed to replace R134a.
Refrigerant

R1234yf

R134a

R407c

GWP

*1

<1

1300

1624

ODP

0

0

0
*1: Global warming potential by IPCC Fifth Assessment Report 2013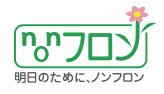 Received Environment Ministry's Award 2016 for global warming prevention activity

Infinitely improved "Usability" and "Connectivity"!
Wide supply voltage
Meets wide range of voltages

Designed to meet wide range of supply voltages from 200 to 240 VAC to give more flexibility in use in Japan and abroad.
IoT
Remote monitoring & operation

RS485(Modbus/RTU) available as standard which can be used for monitoring operation, alarm history, setting changes etc.
Global usage
Meets international standards

User-selectable operation mode
Annual electric consumption can reduce by up to 35%!
In addition to continuous operation, three different operation modes are available to realize energy saving. Select the best suited mode to your application.
Internal fan intermittent run
Energy saving is realized by running the internal fan(s) intermittently when cooling operation is stopped in a cool season like winter.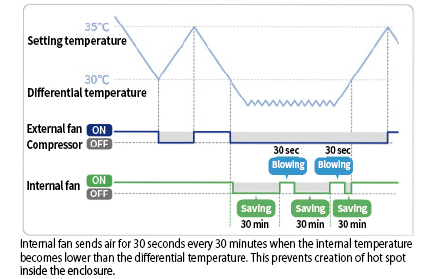 Dependable cooling performance
Short-air-circulation preventive structure eliminates uncooled area
COOLCABI is designed to keep distance between suction port and exhaust port as far as possible. It makes cool air circulates completely throughout the enclosure interior without causing short-circuiting.
Adjusting wind direction prevents local temperature rise. The louver gives air linearity and directionality to cool the local heat spot directly and creates uniform temperature inside the enclosure.
Duct set enables separate installation of COOLCABI
Using duct is an option for places where coolers are difficult to set directly.
Durability and ease of maintenance
Robust over harsh environment!
Oil and chemical resistant iron-blade fan is used on external side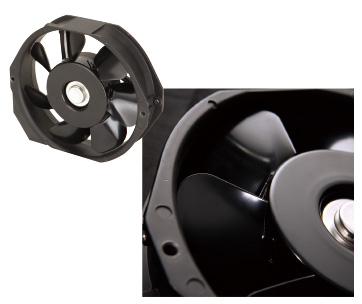 Simple & secure maintenance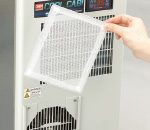 Durable honeycomb filter is reusable by washing.
Detachment of fan is easy and quick with one screwdriver only. Simply connect power via Faston terminal equipped lead wire.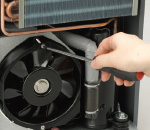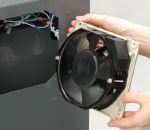 Readily visible alarm display
Maintenance reminder function
Maintenance time is notified automatically at the preset time.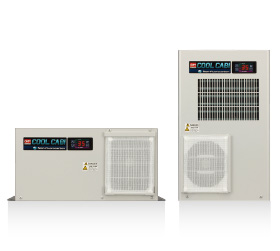 Broad range of products gives you freedom of choice

Available from 300W to 3000W cooling capacities and different mounting types or supply voltages.
For narrow spaces, slim and short type is provided.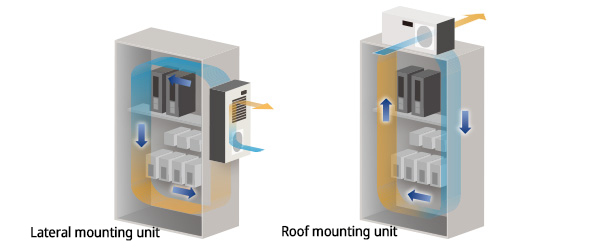 Complete measures against leakage
All roof-mounted models are equipped with two drain pipes for dual drainage system.
No worry about water leakage.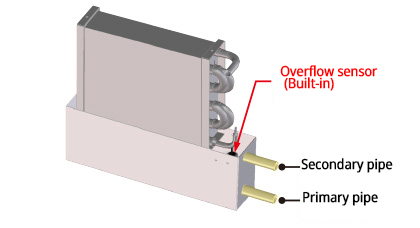 Easy filter replacement for roof mounted units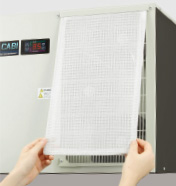 Filter at high place can be detached easily. Saves time and trouble for cleaning or replacement work.
Features - Condensate-free type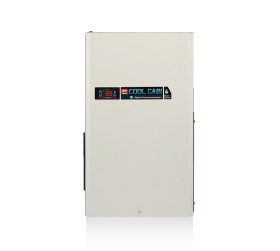 No drainage!

Available from 350W to 2300W capacities.
Our original 3-step evaporation system eliminates troubles of condensate management.
Innovative three-step evaporation system! No electricity required for condensate evaporation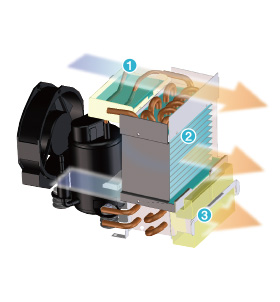 ① Evaporation Pan (1st step)
Water resulted from dehumidification that took place in an enclosure will pool in the Evaporation pan. Evaporation coil is equipped in the pan to heat up the water. Heated water will vaporize by the external air that passes above the pan and goes out. Meanwhile, the evaporation coil is cooled by cold drain water, and thus heat radiation rate increases.
② Evaporation Fin (2nd step)
Residue water in the Evaporation pan will flow to the Evaporation fin. By the high-temperature Evaporation fin and the external air that passes through the fin, the water vaporizes into the atmosphere. Meanwhile, such evaporation takes heat away from the surroundings and it brings about higher heat radiation rate.
③ Evaporation Sheet (3rd step)
As the final step, the Evaporation sheet absorbs the water not evaporated in the Evaporation fin to evaporate it by the hot external air heated by the compressor and the condenser.
Note) This product is designed to process condensate by the above 3-step evaporation mechanism on condition that both internal and external temperature and humidity conditions are under 35 deg. C, 85% RH. Condensate water produced outside the above range is to be discharged through the drain pipe.

Dual energy saving effect brings energy reduction up to 44%!
The Evaporation Pan and the Evaporation Fin raise heat release efficiency of the refrigerant circuit, thus cooler consumes less power compared to when no condensate water is generated. By using the COOLCABI's energy saving mode, energy reduction up to 44% can be realized.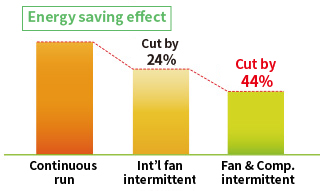 Features - Bottom flow type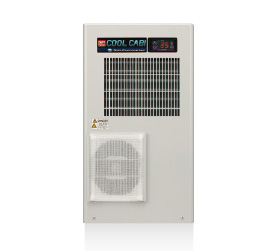 Blows cool air from lower side

Highly efficient cooling is achieved by making a choice according to the layout of components and the position of self-cooling fans in your enclosure.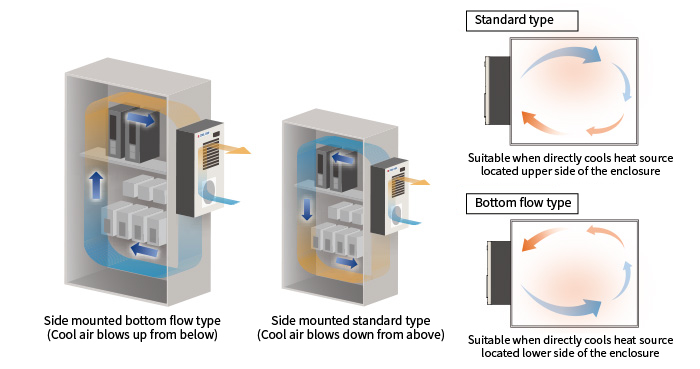 Best suited when fan equipped components are housed
Self-cooling fans of inverters or servo amplifiers suction air from below. Bottom flow type coolers send cool air directly into those self-cooling fans inside the enclosure and achieves efficient and speedy cooling.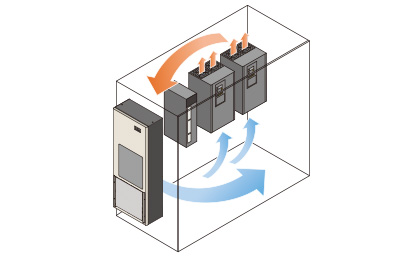 Originally designed downward air blast!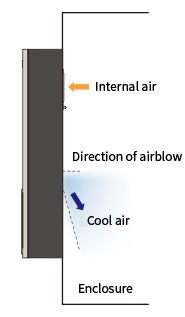 Enhanced cooling effect by blasting cool air downward

The cool air is directed downward so as not to blow directly onto electronic components.
It reaches to the bottom of the cabinet to be smoothly inhaled by the self-cooling fans of components.
Available from wide variations. Choose the best one for your particular application.
Non-fluorocarbon Wide Range
Evolved design for worldwide use

Bottom flow type
OCA-H300BC-AW2-R
OCA-H600BC-AW2-R
OCA-H1000BC-AW2-R
OCA-H1600BC-AW2-R
OCA-H2200BC-AW2-R
OCA-H2900BC-AW2-R