OA-QW with connection guide for 2 core cable splice
---
Secures cable connections from liquid and dust

| | | | | |
| --- | --- | --- | --- | --- |
| Protection category | Color | Rated voltage | Oilproof | Weatherproof |
| IP67 | Black/Light gray | 600V | ✓ | ✓ |
| | | | | | |
| --- | --- | --- | --- | --- | --- |
| EU RoHS2 | China RoHS | CE | UL | CSA | PSE |
・Applications For waterproof insulation of screw terminal connections and relaying signal or lead wires
---
Oilproof type Rubber bushing : Black
Model

Rated voltage

Applicable cable diameter (mm)

Connection guide screw
(mm)
Weight*


Q'ty per package

Fitting bracket

Black

Light gray

L side

R side

OA-QW09S-2

OA-QW09SC1-2

600V AC/DC


Ø4 - 9①

Ø4 - 9①

M3.5

24g

10 pcs.

QW-H1

OA-QW11S-2

OA-QW11SC1-2

Ø9 - 11

Ø9 - 11

20g

OA-QW0911S-2

OA-QW0911SC1-2

Ø4 - 9①

Ø9 - 11

22g
Weatherproof type Rubber bushing : Blue
Model

Rated voltage

Applicable cable diameter (mm)

Connection guide screw (mm)

Weight*


Q'ty per package

fitting bracket

Black

Light gray

L side

R side

OA-QW09SE-2

OA-QW09SEC1-2

600V AC/DC


Ø4 - 9①

Ø4 - 9①

M3.5

24g

10 pcs.

QW-H1

OA-QW11SE-2

OA-QW11SEC1-2

Ø9 - 11

Ø9 - 11

20g

OA-QW0911SE-2

OA-QW0911SEC1-2

Ø4 - 9①

Ø9 - 11

22g
Note : The applicable cable size marked with ① changes by combination of the rubber bushings.

| | |
| --- | --- |
| ① | Applicable cable diameter (mm) |
| Rubber bushing A+B | Ø4 - 6 |
| Rubber bushing A only | Ø6 - 9 |

1. Cut wire at the marking on the connection guide.
A: 30mm B: 22mm

2. Strip the cable end and place the specified crimp terminal.

3. Place cables into the Connection guide and tighten the screw.

4. Tighten the two dome nuts on each end so as to place the Connection guide in the center until the cables are secured.
Connection guide with guage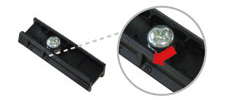 Be sure to use the specified crimp terminals.
Use only one cable for one hole.
Tightening torque and tensile strength differ depending on the material of cable coating and its hardness.
Tensile strength and waterproof performance drops when outer cable diameter changes due to aging.
Product performance are not guaranteed for cables other than the applicable size or round cables.
*Do not step foot or put load on the product. Do not paint the product.
*Do not use this product in oil or water.
*To prevent deterioration, avoid using or storing this product under the following atmospheres.
Outside the range of working humidity and temperature
Water vapor contained or high temperature/humidity air
Acidic, alkaline or organic solvent-containing air (See Technical Data "Chemical resistance")
For any other special environmental conditions, please contact us before use.
For Oilproof Type (Rubber color : black)
Do not expose to direct and continuous sunlight.
Suitable for oily environments.
*For non-oily places, use Weatherproof type.
For Weatherproof Type (Rubber color : blue)
Avoid using in oily environments.
For non-oily indoor places, Weatherproof type is recommended.
AdobeReader® is required to view this content.If this program is not installed on your computer, please click on the icon to the right to do so.