Insulation cap for ring terminals OA-QCM
---
Simply put cap on the screw fastened terminals for insulation (for 8, 10 mm)

| | |
| --- | --- |
| Color | Rated voltage |
| White | 600V |
| | | | | | |
| --- | --- | --- | --- | --- | --- |
| EU RoHS2 | China RoHS | CE | UL | CSA | PSE |
・Applications Splicing and insulating crimped ring terminals of motors, valves and other wiring apparatus
---
Model

Max. applicable cable
diameter (mm)

Color (Lock)

Accessory

Weight

Q'ty per package

OA-QCM8

Ø11×2 pcs.

Beige

Hex bolt(M8×12), fully threaded
SW (Spring washer M8)
Hex nut (M8)

26g

10 pcs/pack

OA-QCM10

Ø13×2 pcs.

Black

Hex bolt (M10×15), fully threaded
SW (Spring washer M10)
Hex nut (M10)

47g


1. Screw the terminals tightly to connect cables.

2. Insert cable assembly into the cover.

*Do not put a finger in the OA-QCM.

4. Push down OA-QCM until it makes a clicking sound.
* Ensure that OA-QCM does not come off.
・Do not put fingers in the product. It can lead to injury.
・Use the attached screw and appropriate crimp terminals.
・Make sure that bolt is tightly fastened.
・Pay attention to the direction of crimp terminals. Do not connect more than 2 crimp terminals.
・After putting the cover on, ensure that the insulation cap does not come off.

Prevents dust entry. Use in combination with the Lock part.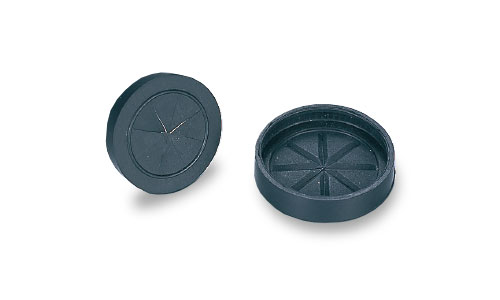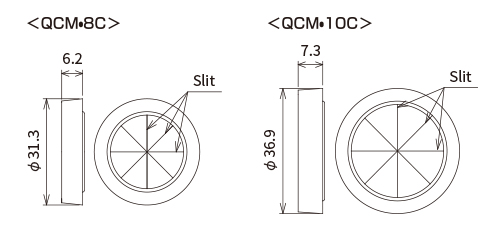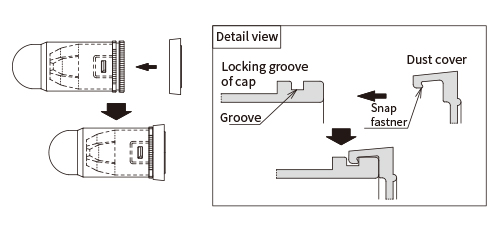 1. Attach Dust cover to OA-QCM and insert cables.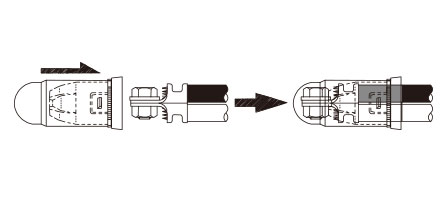 2. Push down OA-QCM until it makes a clicking sound.
*Be sure to direct the insertion port downward or make necessary arrangement to keep foreign matters away from entering. Accumulated dust can be a cause of burnout or other damages.
*Do not uncover the product when applying current.
*This product is not waterproof. Use OA-QW products where waterproofness is required.
*Use and storage under the following conditions should be avoided. Failure to this can lead to deterioration of product quality.

Outside the range of working humidity and temperature
Water vapor contained or high temperature/humidity air
Acidic, alkaline or organic solvent-containing air (See Technical Data "Chemical resistance")
For any other special environmental conditions, please contact us before use.