Option Adjustable louver set
---
Cool air is directly blown to the heat source to prevent local temperature rise
as well as creating uniform temperature in the enclosure.


Linearity and directivity of cool air inside enclosure
Use of louver enables direct air blow to a local heat spot or a distant heat source from a COOLCABI to realize ideal cooling.
Adjustable louver consists of base and louver top. Use the base solely or in combination with the louver top with adjusting the direction according to the application.

Equalization of internal temperature
Use of louver facilitates smooth airflow and creates ideal temperture distribution by suppressing local temperature rise in an enclosure.
Adjustable louver set model

Applicable models of COOLCABI

OCA-RS300AC-GY

OCA-H300AC-AW2,OCA-S300AC-A100

OCA-RS700AC-GY

OCA-H700AC-AW2

OCA-RS1100AC-GY

OCA-H1100AC-AW2

OCA-RS1700AC-GY

OCA-H1700AC-AW2

OCA-RS2300AC-GY

OCA-H2300AC-AW2

OCA-RS3000AC-GY

OCA-H3000AC-AW2

OCA-RS350BCD-GY

OCA-H350BCD-AW2

OCA-RS700BCD-GY

OCA-H700BCD-AW2,OCA-H1300BCD-AW2

OCA-RS2300BCD-GY

OCA-H2300BCD-AW2

OCA-RS300BCS-GY

OCA-H300BCS-A200
Selective use of louver top
To give linearity to the airflow
Use the bace only.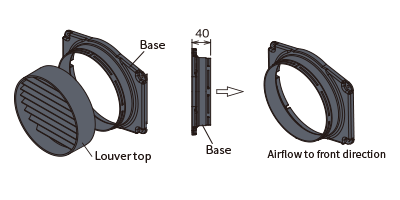 To give linearity and angle to the airflow
Use both of the base and the louver top.