---
Easy to install in positions where hole drilling and tapping are difficult

| | | | | | |
| --- | --- | --- | --- | --- | --- |
| EU RoHS2 | China RoHS | CE | UL | CSA | PSE |
・Applications For electrical service panels, electrical control panels and a variety of other applications

---
Model

Fitting method

Thread for component mount

Color

Working temperature

Weight

Q'ty per package

OL-A3

by instant glue

M3

Orange

-20 to +70℃

3g

100 pcs.

OL-A4

Yellow

3g

OL-B4

M4

Black

10g

30 pcs.

OL-B5

M5

Gray

10g

OL-E3

by screwing
with a M4 flat-head screw

M3

Orange

2g

500 pcs.

OL-E4

M4

Yellow

2g
1. Clean the mounting surface area. No contamination on the surface (dust, oil rust) is allowed.

2-1) Place RESLOCK and adjust four molded tips referring to the position lines.
2-2) Drop or inject a drop of glue into glue hole(s).
  Only one drop (about 0.03 cc) per each glue hole is appropriate.
2-3) Press and hold RESLOCK as required by the glue manufacturer's instructions.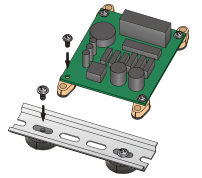 ・Adhesives made out from polyethylene, polypropylene, inert resin and fluorine resin are not permissible to use.
・Low viscosity (2mPa・s) instantaneous chemical adhesive (such as Crazy Glue) is recommended.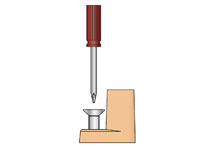 This model is for screw fixing only.
Use a flat top screw of M4 size.
・To prevent deterioration, avoid using or storing this product under the following atmospheres.
Outside the range of working temperature
Water vapor contained or high temperature/humidity air
Acidic, alkaline or organic solvent-containing air (See Technical Data "Chemical resistance")
For any other special environmental conditions, please contact us before use.