Cable gland "CAPCON" OA-W series Closed end type
---
We inform you the end-of-sales of our cable gland "CAPCON" Closed end type and its optional rubber bushing due to the aging production facilities and new release of alternative products.
We would like to thank you for your past usage and your understanding and continued business are highly appreciated.


・Cable gland "CAPCON" OA-W series Closed end type
・Rubber bushing for Closed end type in common option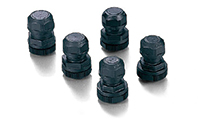 ・OA-W1606-BB    
・OA-W1608-BB    
・OA-W1609-BB    
・OA-W1611-BB    
・OA-W1613-BB    
・OA-W1606E-BB   
・OA-W1608E-BB   
・OA-W1609E-BB   
・OA-W1611E-BB   
・OA-W1613E-BB
・OA-W1606C1-BB
・OA-W1608C1-BB
・OA-W1609C1-BB
・OA-W1611C1-BB
・OA-W1613C1-BB
・OA-W1606EC1-BB
・OA-W1608EC1-BB
・OA-W1609EC1-BB
・OA-W1611EC1-BB
・OA-W1613EC1-BB
・OA-W1606B-BB
・OA-W1608B-BB
・OA-W1609B-BB
・OA-W1611B-BB
・OA-W1613B-BB
・OA-W1606EB-BB
・OA-W1608EB-BB
・OA-W1609EB-BB
・OA-W1611EB-BB
・OA-W1613EB-BB
・G08-06-BB
・G08-06E-BB
・G08-08-BB
・G08-08E-BB
・G11-09-BB
・G11-09E-BB
・G11-11-BB
・G11-11E-BB
・G13-13-BB
・G13-13E-BB
End of March, 2022(as soon as present stock has run out)
The combination of CAPCON and newly released plugging bar make equivalent specification as the existing closed end type.