Crystal clear push-on insulation cap for indoor wiring TOMEI CAP
---
No manual taping, ever! Simply insert ring sleeve terminals and it locks automatically through our unique internal design.

| | | | | | |
| --- | --- | --- | --- | --- | --- |
| EU RoHS2 | China RoHS | CE | UL | CSA | PSE |
This product is conforming to or listed in the following Japanese standards.
・Listed as Common Electrical Facility Wiring Specifications by MLIT (Ministry of Land, Infrastructure and Transport)
・Listed as Common Installation Specifications by HUDC (Housing and Urban Development Corporation)
・Type approval ("T" Marking) by Electrical Appliances Regulations by METI
・Technical Standards of Electric Installation by METI

---
Model

Applicable sleeve

Color

Rated voltage

Working temperature

Weight

Q'ty per package

OP-1

Small stripped crimp ring sleeve
for JIS copper wires

Red


600V AC/DC

-20 to +80℃

2g

100 pcs.

OP-2

Medium/Large stripped crimp ring sleeves
for JIS copper wires

Blue

1. Crimp the wire by leaving 1 to 2 mm of extension out from E sleeve edge.

2. Place TOMEI Cap over the core wire.

3. Push TOMEI Cap until it makes a clicking sound.
4. Bend TOMEI Cap straight and store it into the box. No twisting is allowed.
This product is for ring sleeves only
Crimping work should be done using the specified tools
Faulty crimping as shown in the right should be strictly avoided
Do not use OP-2 for small ring sleeves
Make sure that wires are securely fixed after installation
 Exclusively for indoor wiring boxes use.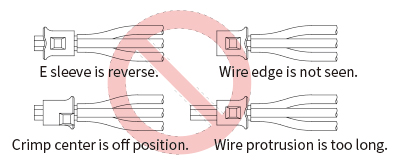 ・Use this product in indoor joint boxes only.
・Read the instruction manual carefully before use for proper usage.
・Be sure to direct the insertion port downward or make necessary arrangement to keep foreign matters away from entering. Accumulated dust can be a cause of burnout or other damages.
・To prevent deterioration, avoid using or storing this product under the following atmospheres.
Highly humid air exceeding 90%RH
Strong alkaline (such as anmmonia), aromatic compound and halogenation hydrocarbon (thinner, toluene, benzene, chloroform etc.) atmospheres
Oily or salty air
Places where the product is exposed to water or dust
For any other special environmental conditions, please contact us before use.