---
For clamping and waterproofing a cable with connector

| | | | |
| --- | --- | --- | --- |
| Protection category | Color | Oilproof | Weatherproof |
| IP67 | Black | ✓ | ✓ |
| | | | | | |
| --- | --- | --- | --- | --- | --- |
| EU RoHS2 | China RoHS | CE | UL | CSA | PSE |
・Applications For clamping and waterproofing D-sub, cannon plug, USB or other connector cables
---
Oilproof type Rubber bushing : Black
Model

Applicable cable
diameter (mm)

Entry hole diameter(mm)

Threads

Mounting plate thickness

Weight*

Q'ty per package

OA-WH16-06/10

Ø6 - 10

Ø21

CTG16

4 mm or less

23g

10 pcs.

OA-WH22-06/13

Ø6 - 13①

Ø28

CTG22

6 mm or less

42g

5 pcs.

OA-WH36-06/13

Ø42

CTG36

7.5 mm or less

68g
Weatherproof type Rubber bushing : Blue
Model

Applicable cable diameter (mm)

Entry hole diameter(mm)

Threads

Mounting plate thickness

Weight*

Q'ty per package

OA-WH16-06/10E

Ø6 - 10

Ø21

CTG16

4 mm or less

23g

10 pcs.

OA-WH22-06/13E

Ø6 - 13①

Ø28

CTG22

6 mm or less

42g

5 pcs.

OA-WH36-06/13E

Ø42

CTG36

7.5 mm or less

68g
Common : Working temperature -25 to +80℃  *Weight values are for Black color models.
*Rubber bushing color of Weatherproof OA-W36 models is black.
Note : The applicable cable size marked with ① changes by combination of the rubber bushings.

| | |
| --- | --- |
| ① | Applicable cable diameter(mm) |
| Rubber bushing A+B | Ø6 - 10 |
| Rubber bushing A only | Ø10 - 13 |

1. Put the connector through the hole.

2. Fit the nipple parts
A and B together.

3. Fit them closely until it clicks.

4. Pass cable through the locknut and secure the nipple.

5. Fit the Dome nut parts A and B together along the cable.

6. Tighten the combined Dome nut to secure the cable.
When disassembling Nipple
For disassembling the Nipple, insert a screw driver into the groove of hexagon part and twist it off.

Use only one cable for one hole.
Tightening torque and tensile strength differ depending on the material of cable coating and its hardness.
Tensile strength and waterproof performance drops when outer cable diameter changes due to aging.
Product performance are not guaranteed for cables other than the applicable size or round cables.
For proper torque management of the locknut and the dome nut , fix the nipple with a wrench and tighten the Dome nut.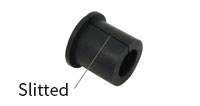 Model

Applicable cable diameter(mm)

Applicable models

Weight

Q'ty per
package

GH16-04/06B

Ø4 - 6

OA-WH16-06/10

1g

10 pcs.

GH16-04/06BE

OA-WH16-06/10E
*Do not step foot or put load on the product. Do not paint the product.
*Do not use this product in oil or water.
*To prevent deterioration, avoid using or storing this product under the following atmospheres.
Outside the range of working humidity and temperature
Water vapor contained or high temperature/humidity air
Acidic, alkaline or organic solvent-containing air (See Technical Data "Chemical resistance")
For any other special environmental conditions, please contact us before use.
For Oilproof Type (Rubber color : black)
Do not expose to direct and continuous sunlight.
Suitable for oily environments.
*For non-oily places, use Weatherproof type.
For Weatherproof Type (Rubber color : blue)
Avoid using in oily environments.
For non-oily indoor places, Weatherproof type is recommended.