---
Suitable for mounting to thick plates up to 8 mm

| | | | |
| --- | --- | --- | --- |
| Protection category | Color | Oilproof | Weatherproof |
| IP67 | Black | ✓ | ✓ |
| | | | | | |
| --- | --- | --- | --- | --- | --- |
| EU RoHS2 | China RoHS | CE | UL | CSA | PSE |
・Applications For thick mounting plates
---
Oilproof type Rubber bushing : Black O-ring : Black
Model

Applicable cable diameter
(mm)
Entry hole diameter
(mm)

Threads

Mounting plate thickness

Weight

Q'ty per package

OA-W1609-13L

Ø6 - 9

Ø21

CTG16
(G1/2)

8mm or less

19g

20 pcs.

OA-W1611-13L

Ø8.5 - 11.5

18g

OA-W1613-13L

Ø11 - 13

17g

OA-W1614-13L

Ø13 - 14

17g
Weatherproof type Rubber bushing : Blue O-ring : Blue
Model

Applicable cable diameter
(mm)
Entry hole diameter
(mm)

Threads

Mounting plate thickness

Weight

Q'ty per package

OA-W1609E-13L

Ø6 - 9

Ø21

CTG16
(G1/2)

8mm or less

19g

20 pcs.

OA-W1611E-13L

Ø8.5 - 11.5

18g

OA-W1613E-13L

Ø11 - 13

17g

OA-W1614E-13L

Ø13 - 14

17g
Common : Working temperature -25 to +80℃  *Weight values are for Black color models.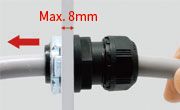 1. Attach the cable gland CAPCON and insert the cable.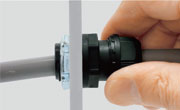 2. Tighten the Dome nut to clamp the cable securely.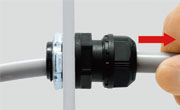 3. Make sure that the cable is properly secured.

Use only one cable for one hole.
Tightening torque and tensile strength differ depending on the material of cable coating and its hardness.
Tensile strength and waterproof performance drops when outer cable diameter changes due to aging.
Product performance are not guaranteed for cables other than the applicable size or round cables.
*Do not step foot or put load on the product. Do not paint the product.
*Do not use this product in oil or water.
*To prevent deterioration, avoid using or storing this product under the following atmospheres.
Outside the range of working humidity and temperature
Water vapor contained or high temperature/humidity air
Acidic, alkaline or organic solvent-containing air (See Technical Data "Chemical resistance")
For any other special environmental conditions, please contact us before use.
For Oilproof Type (Rubber color : black)
Do not expose to direct and continuous sunlight.
Suitable for oily environments.
*For non-oily places, use Weatherproof type.
For Weatherproof Type (Rubber color : blue)
Avoid using in oily environments.
For non-oily indoor places, Weatherproof type is recommended.