JB-W series Female threaded, 600V 20A rated
---
Female threaded entries allow a wide variety of connector selection for your particular wiring requirement.
Rated voltage:600V 20A

| | | | | | | |
| --- | --- | --- | --- | --- | --- | --- |
| Protection category | Color | Rated voltage | Rated current | Oilproof | Weatherproof | Number of terminals |
| IP67 | Black/Light gray/Beige | 600V | 20A | ✓ | ✓ | 6P |
| | | | | | |
| --- | --- | --- | --- | --- | --- |
| EU RoHS2 | China RoHS | CE | UL | CSA | PSE |
---
Model

Rated voltage

Nominal section area of cable

Number of terminals

Terminal screw

Weight
(*1)
Q'ty per package


Black

Light gray

Beige

JB-WP166

JB-WP166C1

JB-WP166BJ

AC/DC
600V 20A
2.0mm2
or less

6P

M3.5×10
Free terminal screw

122g

1 pc.

JB-WP226

JB-WP226C1

JB-WP226BJ

151g
Common:Working temperature -25 to+80℃ 
*1 Weight values are for Black color.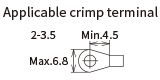 Clamp or Connector selection parameter
| | |
| --- | --- |
| Item | Parameter |
| Connector diameter | Ø33mm or less |
| Thread | CTG16 |
| | |
| --- | --- |
| Item | Parameter |
| Connector diameter | Ø42mm or less |
| Thread | CTG22 |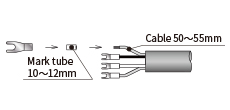 1.Insert cables from the openings on each end (through the CAPCON) and crimp the fork terminals.
【Cautions】Make sure to use an insulated sleeve with the forked terminal to keep an appropriate insulation distance.Failure to this may lead to a short circuit.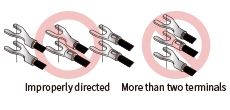 2.Install the fork terminals.

【Cautions】The following matters should be strictly observed. Faulty connections may result in heating or burning.
・Make sure the screws are tightly secured. Check and retighten if necessary.
・Never make connections as shown in the above.
Cable entry port
Attach an appropriate cable gland or a connector at the port in accordance with the manufacturer's instruction.
【Cautions】Use the cable gland or the connector properly as instructed in order to assure its intended liquid tightness.
*Do not step foot or put load on the product. Do not paint the product.
*Do not use this product in oil or water.
*To prevent deterioration, avoid using or storing this product under the following atmospheres.
Outside the range of working temperature
Water vapor contained or high temperature/humidity air
Acidic, alkaline or organic solvent-containing air (See Technical Data "Chemical resistance")
For any other special environmental conditions, please contact us before use.
For Oilproof Type (Rubber color : black)
Do not expose to direct and continuous sunlight.
Suitable for oily environments.
*For non-oily places, use Weatherproof type.
For Weatherproof Type (Rubber color : blue)
Avoid using in oily environments.
For non-oily indoor places, Weatherproof type is recommended.
Please pay attention to the following matters in wiring work.
*Avoid direct sunshine in outdoor use.
*To prevent entry of water dropping along the cable, pay attention to the following matters.
Do not place the JOIBOX so as the cable entry is in an upward direction.
When the cable is drawn from higher position, provide a water trap or a horizontal portion.