JB-W series Female threaded, Terminal block mounter integrated
---
Female threaded entries allow a wide variety of connector selection to meet your wiring requirements.
Terminal board is not pre-mounted.

| | | | |
| --- | --- | --- | --- |
| Protection category | Color | Oilproof | Weatherproof |
| IP67 | Black/Light gray/Beige | ✓ | ✓ |
| | | | | | |
| --- | --- | --- | --- | --- | --- |
| EU RoHS2 | China RoHS | CE | UL | CSA | PSE |
---
Model

Working temperature

Weight(*1)

Q'ty per package

Black

Light gray

Beige

JB-WB2209

JB-WB2209C1

JB-WB2209BJ

-25 to +80℃

127g

1 pc.
*1 Weight values are for Black color.
Maximum dimensions of terminal board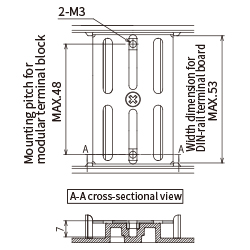 *The fixing screws for mounting a terminal board should be within the following range.
Screw length=Thickness of the flange of the terminal board +4 to 7mm
*Some terminal boards may not be attachable due to their configurations.
Clamp or Connector selection parameter
| | |
| --- | --- |
| Item | Parameter |
| Connector diameter | Ø42mm or less |
| Thread | CTG22 |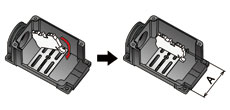 【Mounting to a DIN-rail】
Mount the DIN rail of a terminal board to JOIBOX . Maximum allowable length of A = 53 mm
*Some type of terminal board configuration may not applicable to this product.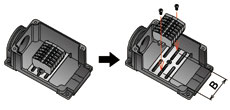 【Mounting to a terminal block】
Screw a terminal block to the fixation nuts of JOIBOX. Maximum allowable pitch of B=Max.48mm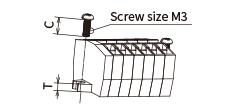 For securing a terminal block, use the screws within the following range.
(T+4mm)≦C≦(T+7mm)
Cable entry port
Attach an appropriate cable gland or a connector at the port in accordance with the manufacturer's instruction.
【Caution】Use the cable gland or the connector properly in order to assure its intended liquid tightness.
*Do not step foot or put load on the product. Do not paint the product.
*Do not use this product in oil or water.
*To prevent deterioration, avoid using or storing this product under the following atmospheres.
Outside the range of working temperature
Water vapor contained or high temperature/humidity air
Acidic, alkaline or organic solvent-containing air (See Technical Data "Chemical resistance")
For any other special environmental conditions, please contact us before use.
For Oilproof Type (Rubber color : black)
Do not expose to direct and continuous sunlight.
Suitable for oily environments.
*For non-oily places, use Weatherproof type.

For Weatherproof Type (Rubber color : blue)
Avoid using in oily environments.
For non-oily indoor places. Weatherproof type is recommended.

Please pay attention to the following matters in wiring work.
*Avoid direct sunshine in outdoor use.
*To prevent entry of water dropping along the cable, pay attention to the following matters.
Do not place the JOIBOX so as the cable entry is in an upward direction.
When the cable is drawn from higher position, provide a water trap or a horizontal portion.