COOLCABI Wide range - Bottom flow models
---
Bottom flow models added to the enclosure cooler "COOLCABI" Wide range
We are happy to announce the upcoming launch of Bottom flow models to the "COOLCABI" new version with rich features including wide input voltage range, IoT and international usability.
Notes:
The sale of current Bottom flow models will continue until Sep. 30, 2022.
For the new Bottom flow models, there is no plan for CE, UL and CCC approvals.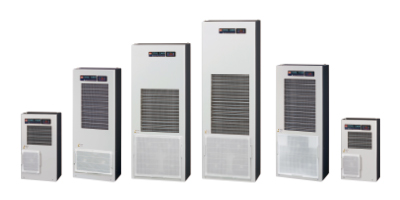 Type of mounting

Current model

New

model

Cooling capacity (W)*

Lateral mounting

OCA-H300BC-A200-R

OCA-H300BC-AW2-R

240/290

OCA-H600BC-A200-R

OCA-H600BC-AW2-R

440/550

OCA-H1000BC-A200-R

OCA-H1000BC-AW2-R

720/920

OCA-H1600BC-A200-R

OCA-H1600BC-AW2-R

1290/1440

OCA-H2200BC-A200-R

OCA-H2200BC-AW2-R

1880/2070

OCA-H2900BC-A200-R

OCA-H2900BC-AW2-R

2370/2640
Rated voltage: 200 to 240 VAC, 50/60Hz
Communication function: RS485 (Modbus/RTU)

The new models are equivalent to current models in cooling capacity and outline dimensions. Panel cutout sizes are unchanged.
Wednesday, June 1st, 2022

For further details please contact us at info-cs@ohm.jp.


*The contents of this article are as of May, 2022.