Liquidtight cable gland CAPCON Metallic Slim
---
Release on November 12, 2021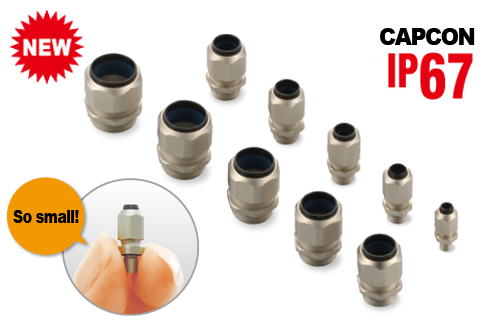 Lineup expanded to 10 sizes!
Industry's smallest body with stylish design.


Newly 4 different sizes are added to the lineup of
metallic slim type CAPCON. Best suited to narrow
spaces like LED illumination or small motors.

Applicable cable range now covers from 2mm to
12mm diameters! Available from oilproof and weatherproof
types. Choose the best one to your particular application.
Smart-looking fitted to a cable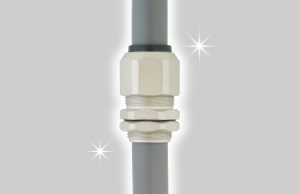 Massive reduction in size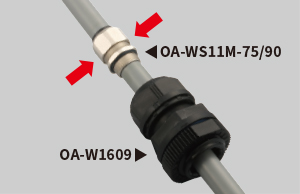 Compared with a plastic type
Applicable cable diameters (in mm)

Oilproof type Rubber bushing: Black
Model

Applicable cable diameter (mm)

Entry hole diameter (mm)

Threads

Working temperature

Weight

Q'ty per package

Locknut model

OA-WS04M-20/25

Ø2 - 2.5

Ø4

M4×0.5

-25 to +100℃

2g

10 pcs.

LN-WS04M

OA-WS06M-25/40

Ø2.5 - 4

Ø6

M6×0.5

4g

LN-WS06M

OA-WS07M-35/50

Ø3.5 - 5

Ø7

M7×0.5

4g

LN-WS07M

OA-WS08M-45/60

Ø4.5 - 6

Ø8

M8×0.5

5g

LN-WS08M

OA-WS09M-55/70

Ø5.5 - 7

Ø9

M9×0.5

5g

LN-WS09M

OA-WS10M-65/80

Ø6.5 - 8

Ø10

M10×0.5

6g

LN-WS10M

NEW

OA-WS11M-75/90

Ø7.5 - 9

Ø11

M11×0.5

6g

LN-WS11MBS

NEW

OA-WS12M-85/100

Ø8.5 - 10

Ø12

M12×0.5

7g

LN-WS12MBS

NEW

OA-WS13M-95/110

Ø9.5 - 11

Ø13

M13×0.5

7g

LN-WS13MBS

NEW

OA-WS14M-105/120

Ø10.5 - 12

Ø14

M14×0.5

8g

LN-WS14MBS
Weatherproof type Rubber bushing: Blue
Model

Applicable cable diameter (mm)

Entry hole diameter (mm)

Threads

Working temperature

Weight

Q'ty per package

Locknut model

OA-WS04M-20/25E

Ø2 - 2.5

Ø4

M4×0.5

-25 to +100℃

2g

10 pcs.

LN-WS04M

OA-WS06M-25/40E

Ø2.5 - 4

Ø6

M6×0.5

4g

LN-WS06M

OA-WS07M-35/50E

Ø3.5 - 5

Ø7

M7×0.5

4g

LN-WS07M

OA-WS08M-45/60E

Ø4.5 - 6

Ø8

M8×0.5

5g

LN-WS08M

OA-WS09M-55/70E

Ø5.5 - 7

Ø9

M9×0.5

5g

LN-WS09M

OA-WS10M-65/80E

Ø6.5 - 8

Ø10

M10×0.5

6g

LN-WS10M

NEW

OA-WS11M-75/90E

Ø7.5 - 9

Ø11

M11×0.5

6g

LN-WS11MBS

NEW

OA-WS12M-85/100E

Ø8.5 - 10

Ø12

M12×0.5

7g

LN-WS12MBS

NEW

OA-WS13M-95/110E

Ø9.5 - 11

Ø13

M13×0.5

7g

LN-WS13MBS

NEW

OA-WS14M-105/120E

Ø10.5 - 12

Ø14

M14×0.5

8g

LN-WS14MBS