Self-charging oil skimmer
---
Efficiently removes floating oil in coolant tanks with achieving energy-saving by its battery-operated design.

Specifications

Self-charging type

Multi-range power supply

Energy saving

High efficiency
| | | | | | |
| --- | --- | --- | --- | --- | --- |
| EU RoHS | China RoHS | CE | UL | CSA | PSE |
Model

For coolant tank

For cleaning machines

OJS-HD130-A

OJS-HD220-A

OJS-HD320-A

OJS-HD500S-A

Distance to liquid level
(Dimension A)

130mm

220mm

320mm

500mm

Rated voltage (50/60Hz)

Single phase, 100 - 240VAC

Current consumption

0.6A at 100VAC, 0.4A at 200VAC

Power consumption

40W or less

Working temperature

0 to +40℃

Working humidity

20 - 85%RH, free from condensation

Collection capacity

*1

Approx. 2.6L/hr (oil content 75%)

Type of battery

Valve regulated lead acid battery

Battery charging time

*2

Within 2 hours (at beginning)

Battery run time

*3

1 hour

Expected life of battery 

※4

Approx. 3 years

Electrical connection

Terminal board (M3.5×8 scew with sq. washer)

Alarm

Detection of battery deterioration

Other functions

Action indication lamp, Jog switch

Control box color

Ivory 10GY9/1

Belt

Double coated urethane belt

Stainless steel belt

Conformity to standards

Environmental standard

RoHS

Weight

6.9kg

7.0kg

7.1kg

7.3kg
*1 Based on our standard. The content rate is measured in accordance with JIS residue on evaporation test method.
*2 Charging time may differ depending on the battery condition.
*3 Operation time may be shortened depending on the battery condition.
*4 This is the expected calculation value and not a guaranteed value by us. Value varies depending on working environment.
---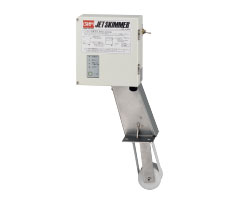 JET SKIMMER : 1 unit Instruction manual : 1 copy
Pour coolant or cleaning solution into the Separating Tank before using Jet Skimmer.
Oil and coolant collected by Jet Skimmer flows into No.1 tank after floating oil and sludge are removed through the Mesh Tray.
Oil having lower specific gravity floats to the surface and goes out through the oil outlet.
Other liquid flows beneath the partition plate, then moves to No.2 tank and flows through the pipe to be returned into the coolant tank from the water return inlet.
*Separation Tank and Gauge Tray are option. See "Option" .
---
Part name

Part number

Material

Q'ty per package

Belt (For HD130)

OJS-02

Urethane double coating
(finger-style connection)

1 pc.

Belt (For HD220)

OJS-03

Belt (For HD320)

OJS-04

Belt (For HD500S)

OJS-05

SUS

Battery

OJS-06

Valve regulated lead acid battery

1 pc.

Scraper

OJS-07

Polyacetal
---
Operation behavior (in basic operation)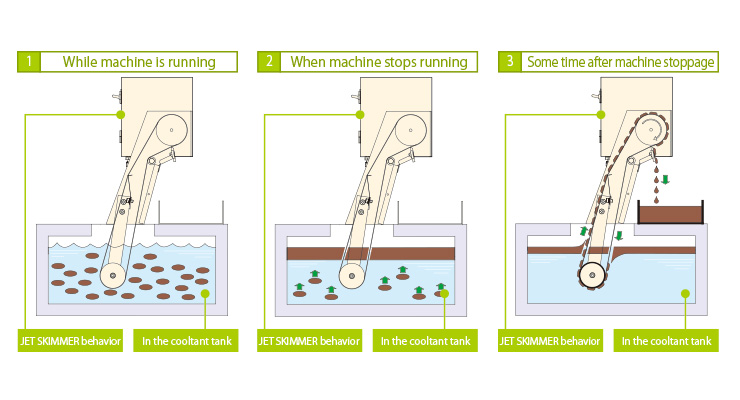 ①
Jet Skimmer behavior
Performs battery charging. Motor is not running.
Inside coolant tank
When machine is operating, power is supplied to JET SKIMMER and coolant in the tank is agitated. Oil is mixed in the coolant fluid.
②
Jet Skimmer behavior
Jet Skimmer switches to battery-driven operation. Motor starts to work either three minutes or thirty minutes (selectable) after machine stoppage.
Inside coolant tank
After machine stoppage (power disconnection), oil mixed in coolant floats to the surface.
③
Jet Skimmer behavior
When floating of oil finishes, the motor starts operation for one(1) hour powered by the battery. While the motor is rotating, the belt catches oil on the liquid surface and the scraper removes oil from the belt.
Inside coolant tank
Floating oil is collected by Jet Skimmer.
---
Collection capacity comparison
①When operated JET SKIMMER for one hour after agitating coolant in the tank (assuming machine is in operation)
②When operated JET SKIMMER for one hour without agitating coolant in the tank (assuming thirty minutes after machine stoppage)

Testing conditions
Size of coolant tank W800 × H500 × D800(mm) : 150L
Cutting water: 100L(coolant solution diluted 25 times, containing floating oil of 4L)
*Concentration test method is according to JIS evaporation residue test method.
---
Power consumption comparison
| | | |
| --- | --- | --- |
| | JET SKIMMER | Conventional oil skimmer |
| Conditions for comparison | 2 hours/day charging during machine operation and 1 hour operation after power disconnection to machine | 8 hour operation per day |
| Power consumption | 20W (Charging time) | 15W |
| Power consumption per day | 16.4Wh/day | 120Wh/day |
For treatment of an used battery of this product, please observe all applicable lows and regulations of your region so it can be properly recycled.
In Japanese law, the sealed lead acid battery is listed in the "Specified Resources-Recycled Product" and the used batteries needs to be properly treated and recycled by specialized companies.
Outside Japan as well, please check your local regulations on disposal or recycling of batteries and make a proper treatment plan.

<For users in Japan>Obligation and obligated person on small-sized secondary batteries by Japanese recycle law
Products

Obligation

Obligated person

Battery manufacturer

Equipment manufacturer

Specified marking products
(Battery unit) (Separate collection)
Recycle marking on product

✓

-

Specified reuse-promoted products
(Battery-used products)
(Recycling-oriented design)
Designed for easy detachment, marking of use of small secondary battery in instruction manual

-

✓

Specified recycling products
(Battery-used products)
(Recovery and recycling by business operator)
Waste recovery

✓

✓

Recycling

✓

-

Public awareness activity and information for recovery

✓

✓

Cooperation with local government and pick up

✓

-
---
・Liquid temperature in the tank should not exceed +70℃.
・In case of long-term storage, remove the battery from the control box without fail. For storage of both the JET SKIMMER and the removed battery, select a cool and dry place.
  Recommended storage temperature : 15 to 25℃
  Recommended storage humidity : 30 to 60%RH
・This product cannot be used in an environment in which corrosive or flammable gasses, oil smokes or dust which affect insulation generates or permeate.
・This product is for indoor use only.
・The site of use should be free from vibration and impact.
・Electrical works required for mounting the product should be done by professionals or qualified personnel.
・Make sure that the packaging is not damaged on delivery. Damages during transportation may lead to product failure. In case any damage is found, contact your supplier immediately.