---
EVAPRO eliminates troublesome drainage treatment for cooling units
Available from 3 evaporation methods

3 different evaporation methods you can choose
Vaporization type with absorbent filter
Simplified structure to evaporate condensate water only by sending air

Air inhaled by the fan is sent to the Absorbent filter to evaporate water there passing through the filter. Filter replacement time is readily visible and replacement can be done easily. Small-sized, light weight and low energy consumption. Most suitable to thermoelectric coolers/dehumidifiers.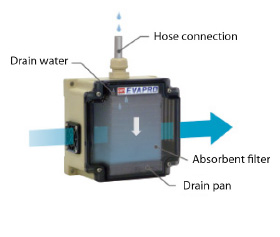 Ultrasonic atomization type
Ultrasonic vibrator atomizes drain water

Ultrasonic vibrator breaks up of water into droplets to discharge it into the air, where those atomized particles evaporate. Processes 650ml water per hour (at 30℃,60%RH) with only one-seventh energy consumption of heater type.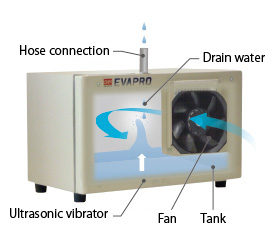 Most powerful processing power in the series

Heater type can process drain water up to 10000ml per hour (at 30℃,60%RH). Suitable for an application where large amount of water is discharged. Dual protection against over heating with thermostat and thermal fuse.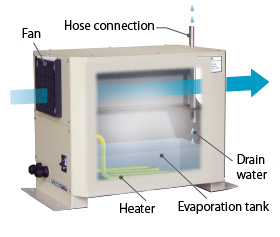 Reference chart for selection
Model

OCJ-F002-D24

OCJ-F004-D24

OCJ-M030-AW

OCJ-M060-AW

OCJ-1201

Processing method

Vaporization type with absorbent filter

Ultrasonic atomization type

Heater type

Processing power *1

20ml/h

40ml/h

320ml/h

650ml/h

1000ml/h

Rated voltage

24VDC±10%

Single phase, 100V-240VAC±10%

Single phase, 200VAC±10%

Power consumption

1.5W *2

3W *2

5W *2

5W *2

900W *3

Weight

0.6kg

0.9kg

4.8kg

6.5kg

12.0kg
Remarks)*1: at 30℃ temp. and 60%RH humidity, *2: Max. value within the working humidity range, *3: Rated value