---
Thermoelectric dehumidifier BOXDRY
Peltier dehumidifier with a small body
Protects electric equipment from a short-circuit malfunction or insulation failure caused by high humidity or dew condensation

Ideal for wide array of applications such as dehumidification of control panels or chemical closets or antifogging of refrigerating showcases. Available from various models.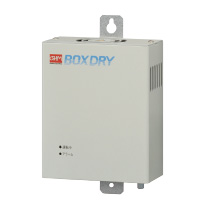 Powerfully dehumidifies air by forcible air convection using a fan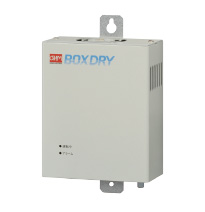 Causes natural air convection to lower the humidity level without using fans
No vibration, no noise and long life expectancy!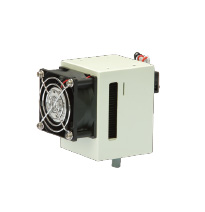 Big capacity in small body!
Simplified model with no microcontroller
Switch-selectable from Continuous and Auto (Energy save) operation
During Auto mode, operation stops when the humidity falls below 50%.
By using Auto mode, power consumption at around 50% humidity can be reduced to 1/7 or less of those in continuous run.
Dehumidification under low temperature
In case condensation water freezes on the cooling fin when temperature drops below 10 deg. C, the microcontroller switches operation to de-icing and thus dehumidification under low temperature is enabled.
Temperature/humidity data recording
Up to 1000 temperature and humidity data can be recorded.
Enables analysis of changes in temperature and humidity by time at the installation site
※For Forced air cooling type only