---
Big capacity in small body!
Simplified model with no microcontroller

| | | |
| --- | --- | --- |
| Environment of use | Dehumidification method | Specifications |
| Indoor | Thermoelectric | Small-sized |
| | | | | | |
| --- | --- | --- | --- | --- | --- |
| EU RoHS | China RoHS | CE | UL | CSA | PSE |
Model

ODE-1512D
Dehumidification capacity

*1

15ml/h

Rated voltage

12VDC

Current consumption

5.0A

Starting current

5.2A

Working temperature

+10 to +60℃, ice-free

Working humidity

Max. 95%RH

Overheat protection on radiation side

None

Operation mode

Continuous run

Vibration tolerance

Vibration frequency 10 to 55Hz, Total amplitude 0.7mm
Cycle 5 min., X,Y, Z direction 25 min. each

Power connection

Screw terminal board

Conformity to standards

Environment

RoHS

Dimensions (mm)

*2

W65×H104×D109

Weight

500g
*1 Nominal value when ambient temperatures is +30℃ and humidity is 80%RH
*2 Cooling fin may ice up when ambient temperature is as low as around +10℃, which will decline dehumidification performance of BOXDRY.
*3 This product is for continuous run only and have no function like energy saving mode, low temperature dehumidification or error detection.
Supply voltage should be within the specified range with fluctuation not exceeding ±5%.
---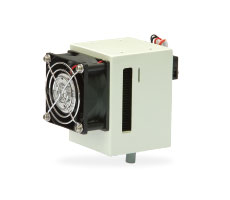 Dehumidification capacity
BOXDRY : 1 unit Screws M3×6 : 2 pcs. Drain hose Ø8~Ø11 : 1 pc. 1.5 m long 
Instruction manual : 1 copy
Dehumidification capability of BOXDRY is determined by inner volume of the enclosure to which it is applied. The intersection of the vertical axis and the performance curve shows the dehumifificaiton capability. Use of 2 units doubles the inner volume.
Performance by internal volume (in cont. run)
Note : The chart shows correlation of internal humidity and enclosure inner volume under the condition at 100%RH and 30℃ temperature outside the enclosure provided that the enclosure has no vent having a hermetically sealed door which is not opened more than one time a day.
---
・This product is designed to be installed in an enclosure.
・Make sure that the enclosure is hermetically sealed with no vent.
・Do not use this product in a place where flammable or corrosive gasses or any matters that can destroy insulation generate or permeate.
・The site of use should be free from vibration and impact.
・Electrical works required for installation of this product should be done only by professionals or qualified personnel.
・install BOXDRY perpendicularly within 1 degree angular tolerance.
・Pay attention in attaching the drain hose (accessory). Bent or clogged hose causes trouble in drainage, which may lead to water leak into the enclosure.
・Make sure that the packaging is not damaged on delivery and contact your supplier.Any packaging damage may be a cause of breakdown.