Dedicated software for Temperature control system
---
A software specifically designed for the temperature control systems
Enables monitoring of values, ON/OFF switching and settings by PC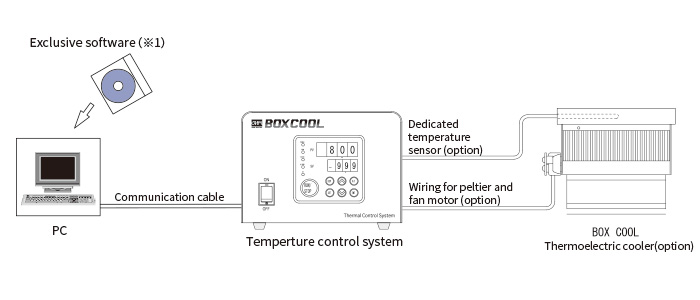 Applicable product models : OCE-TCR12075WL. OCE-TCR24150WL. OCE-TCR24300WL, OCE-TCR24600WL, BCU-01P220-AW
Connection method : USB
Number of connectable units : 1 (One connected unit per PC only. Not designed for centralized management for multiple units)
The values and temperatures are displayed in real time.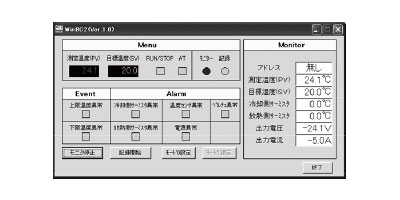 ・Measured temperature ・Set temperature 
・Output voltage ・Output current
・Thermistor temperature on cooling side 
・Thermistor temperature on heat dissipation side
Operation control of connected equipment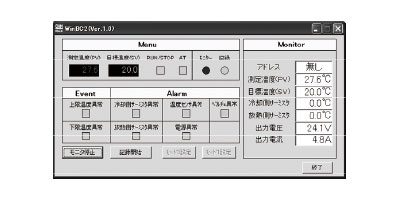 ・Operation ON/OFF ・Change of setting temperature
・ON/OFF of AT (auto-tuning)
Setting of connected equipment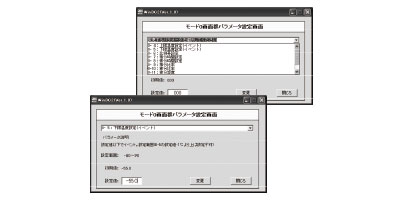 ・Operation parameter ・PID parameter ・Event parameter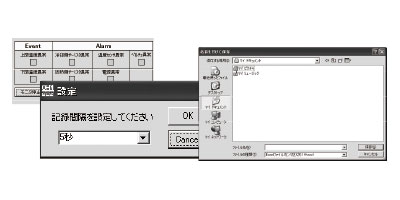 Various values or temperature can be recorded depending on application by setting recording interval.
【Recording data】 
 Measured temp./Setting temp./Output voltage
 Thermistor temp.for cooling side and heat dissipation side
【Recording interval】
 2 sec./ 5 sec./ 10 sec./30 sec./1 min./
5 min./10 min./30 min./60 min.
【Saving format】
 Text file (CSV form)
Software name

WinBC2

Applicable product models

OCE-TCR12075WL、OCE-TCR24150WL、OCE-TCR24300WL、
OCE-TCR24600WL、OCE-TCR24600WL、BCU-01P220-AW

Operation environment

Supported OS

Windows Vista(32 bit/64 bit) Japanese version Home Basic, Home Premium, Business, Ultimate
Windows 7(32 bit/64 bit)Japanese ver.Home Premium、Professional、Ultimate
Windows 8/8.1 (32 bit/64 bit)Japanese ver. Windows 8、Windows 8 Pro、Windows 8.1、Windows 8.1 Pro
Windows 10 (32 bit/64 bit)Japanese version Home, Pro

Supported CPU

Processor of no less than 800 MHz

Memory

512 MB or more

Free disk space

20 MB or more

Display

VGA monitor of 1024×768 pixels or higher resolution

Communication port

USB 1.1 or serial port
Note : The above company names and product names are trademarks or registered trademarks.