Fan-cooled Plate Cooling type DIY kit
---
Self-assembling kit of Fan-cooled Plate cooling type for learners.
Easy to assemble with a screwdriver.


| | | | |
| --- | --- | --- | --- |
| Environment of use | Cooling method | Heat dissipation | Type of cooling |
| Indoor | Thermoelectric | Air cooling | Plate |
| | | | | | |
| --- | --- | --- | --- | --- | --- |
| EU RoHS | China RoHS | CE | UL | CSA | PSE |
Model

OCE-KT3

Cooling method

Fan-cooled Plate cooling

Cooling capacity

*1

10W

Max. temperature difference

*2

27K

Power input

Main unit : 9VDC 2.5A/When power adapter is used : 100VAC 0.6A

Working temperature

0 to+40℃

Working humidity

Max. 80%RH, free from condensation

Overheat protection on dissipation side

Not provided

Operation

Continuous (Inversion operation is unavailable)

Power connection

Adapter inlet between Main body and Power adapter, Plug between Power adapter and Outlet

Dimensions (mm)

Main body : W60×H75×D60 Power adapter : W50×H93×D32 Cord length 1.6m

Weight

780g (Incl. 200g for power adapter)
*1 Nominal value at 25℃ ambient temperature by applying our capacity measurement method by product type
*2 Temperature difference between ambient air and plate surface when ambient temperature is 25℃ and heat load on plate surface is zero

Cooling capacity may vary by the quality of assembly work. The above cooling capacity and Max. temperature difference show reference values.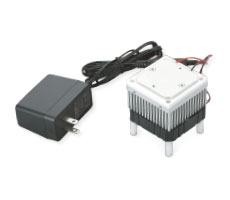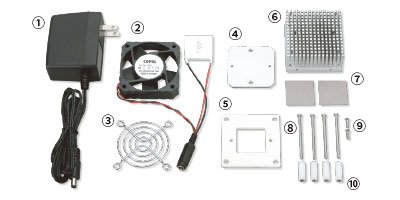 ①Power adapter : 1 pc. ②Thermoelectric module unit : 1 pc. ③Fan guard : 1 pc.
④Aluminum plate : 1 pc. ⑤Heat insulator : 1 pc. ⑥Fin : 1 pc.
⑦Heat conductive sheet : 2 pcs. ⑧Screw (Large) : 4 pcs.
⑨Screw (Small) : 2 pca. ⑩Spacer : 4 pcs.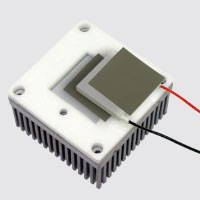 1. Attach the heat insulator to the fin and lay the thermal conductive sheet, thermoelectric module and thermal conductive sheet in an orderly stack in the square hole provided in the center.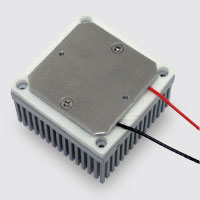 2. Put the plate on top and fix it with 2 small screws.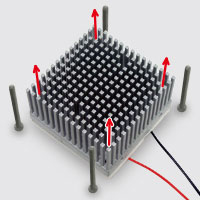 3. Insert 4 large screws from the heat insulator side.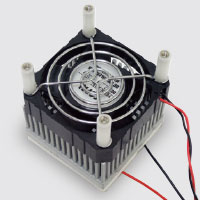 4. Put the screws through fan and fan guard. Then, fix the screws with the spacers.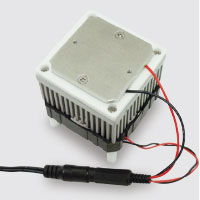 5. Connect the power adapter to the plug.
Now the work has finished.
Thermal conductive grease
Thermal conductive grease GR746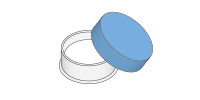 Use as an alternative to thermal conductive sheet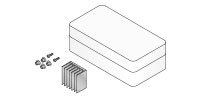 Styrol box 1 pc., Screw 2 pcs., Nut 4 pcs.
Cooling fin 1 pc., Cutout drawing 3 pcs.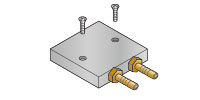 Cooling block 1 pc, Screw 2 pcs.
---
・Do not use this product in a place where flammable or corrosive gasses, oil fume or any matters that can destroy insulation generate or permeate.
・The site of use should be free from vibration and impact.
・Do not use other power adapters than supplied.
・Electrical works required for installation of this product should be done only by professionals or qualified personnel.
・Indoor use only.
・No warranty is given to this product.
・Make sure that the packaging is not damaged on delivery. Any packaging damage can lead to breakdown of the product. Please contact us immediately if any damage is found.