Constant temperature water circulator
---
Constant temperature water circulator using thermoelectric technology.
Keeps object's at constant temperature by controlling temperature of water, ethylene glycol and other circulatory liquids

Environment of use

Cooling method

Heat dissipation

Function

Indoor

Thermoelectric

Air cooling

Display

Wide range of supply voltages
・Application For temperature control of dispensing liquid, medical-care equipment, laser marker, laboratory equipment, wafer production line, LD printer, etc.
| | | | | | |
| --- | --- | --- | --- | --- | --- |
| EU RoHS | China RoHS | CE | UL | CSA | PSE |
Model

BCU-01P220-AW

Cooling method

Fan-cooled thermoelectric cooling

Cooling capacity

(*1)

220W

Heating capacity

(*1)

500W

Rated voltage (50/60Hz)

Single phase, 100-240 VAC

Max. power consumption

600VA

Liquid circulation system

Hermetically sealed circulaiton

Circultion fluid

(*4)

Ethylene glycol of 30% or less dilute concentraion

(*2)

Purified water (ion-exhange water)

(*3)

Pipe connection

CPC coupling (supplied with the product Outer diameter of nippleØ9.5 mm)

Tank capacity

500ml(MAX)

Pumping rate

(*5)

Approx. 3L/min

Pump head

(*5)

Approx. 7.5m

Temperature regulating method

PID control with auto-tuning function

Control method

Polarity reversion type Linear voltage control

Internal temperature sensor

Resistance temperature detector JIS Pt100/JPt100 3-wire type

Temperature setting range

(*6)

-10℃ to +40℃

Display accuracy

±0.1℃

Display resolution

0.1℃

Temperature control accuracy

±0.03℃

Working temperature

0 to +40℃

Working humidity

Max. 80%RH, free from condensation

External input/output

Analog output (0-10V)

(*7)

Alarm contact output (100VAC 1.0A/24V DC 1.0A)1 point
 Event contact ouput (100V 1.0A/DC24V 1.0A) 1 point communicaiton:RS-485 1point communication:USB 2.0 1 point

Safeguard

Fuse <250VAC 10A> (double protection on primary side) Alarm buzzer
self diagnosing
Detection of Upper temperature limit error/Lower temperature limit error/Cooling block temperture error/Heat dissipation fin temperature error/Thermoelectric power supply error/Decrease in circulation liquid flow

Noise

Max. 57dB(A)

Conformity to standards

Environment

RoHS

Dimensions (mm)

W225×H374×D273

Weight

(*8)

12.0kg
*1 Nominal values at +30℃ ambient temperature
*2 Use a liquid which specific gravity is less than 1.0 and viscosity is less than 10 cp. Use of a thickened liquid can stop the pump.
*3 Specific resistance of circulation liquid should not exceed 0.1MΩ・cm. Failure to this can lower the pump life significantly.
*4 Please consult us if you hope to use other liquids.
*5 Value when the inlet and outlet of circulation liquid are directly connected with a pipe of 6.5 mm inner diameter and 1.0 m long. It decreases by load.
*6 Attention should be given not to ice up the circulation liquid when BOX CHILLER is used with setting less than 0℃. Failure to this can lead to the alarm "Decrease in circulation liquid flow".
*7 Analog output : Load impedance 100 kΩ or more
*8 Value not including circulation liquid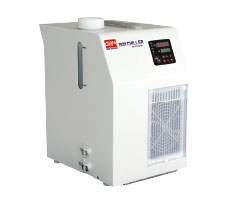 Cooling : 220W  Heating : 500W
BOX CHILLER : 1 unit Outer diameter of nipple for CPC coupling Ø 9.5mm: 3 pcs.
Conenctor for RS485 6P : 1 pc. Power cord 3 m long : 1 pc. Instruction manual : 1 copy
Detachable filter for replacement
BCF-S4 (1 pc)
---
・Do not use this product in a place where flammable or corrosive gasses, oil fume or any matters that can destroy insulation generate or permeate.
・The site of use should be free from vibration and impact.
・Electrical works required for installation of this product should be done only by professionals or qualified personnel.
・Do not use other liquids than specified in the instruction manual.
・Do not overfill the tank during shutdown. It may lead to overflow depending on operating condition.
・If the product is carried with holding its handle, keep a shock load away from the handle.
・Use this product on a level surface.
・Place BOX CHILLER well away from surrounding walls or other goods.
・Do not put things on the product or apply impact on it.
・Never disassemble or tamper the product.
・Make sure that the packaging is not damaged on delivery. Any packaging damage can lead to breakdown of the product. Please contact us immediately if any damage is found.