Standard series Standard type Roof mounting
---
Rich lineup in roof mounting.

Type of mounting

Environment

Cooling method

Functions

Duct kit (Option)

Adjustable louver (Accessory)

Indoor

Compressor

Energy-saving mode

Display
| | | | | | |
| --- | --- | --- | --- | --- | --- |
| EU RoHS2 | China RoHS | CE | UL | CSA | PSE |
Model

OCA-S300AC-A100

Type of mounting

Roof mounting

Cooing capacity

*1

300/350W

Rated voltage

(50/60Hz)

Single phase 100VAC

Current consumption

*2

Rated

2.9/2.6A

Max.

3.3/3.1A

Starting current

7.1/6.6A

Power consumption

*2

Rated

245/255W

Max.

300/305W

Comp. motor output

100W

Working temperature

*3

+20 to+50℃

Working humidity

Not exceeding 85%RH, free from condensation

Noise(Charactristic A)

61dB(A)

Temp. setting range

*3

+30 to+45℃ (Initial setting +35℃)

Display

Innter temperature/Alarm code/Operation lamp/Alarm lamp

Functions

Off-temperature alarm, Detection of abnormal heat dissipation, Detection of temperature sensor disconnection, Maintenance reminder,Forced cooling operation for inspection, Detection of drain overflows, Detection of evaporator ice-up

External output

Alarm output 1a 240V 1.5A×2(COMMON)

Vibration withstand

Vibration frequency 10 to 150Hz, Acceleration 1.0G, Sweep cycle 20 times

Protection category

*4

Internal circuit IP54 equivalent

Conformity to standards

EMC Directive

EN61000-6-2, EN61000-6-4 complaint

LV directive

EN60335-1, EN60335-2-40, EN62233

Environment

RoHS2

Refrigerant

R134a(135g)

GWP

*5

1430

Color

Beige(5Y7/1 corresponding)

Dimensions(mm)

W450×H230×D250

Weight

16.0kg
*1 Nominal value when both of internal and external temperatures are +35℃.
*2 Nominal values at 35℃ temperature both inside and outside are indicated in "Rated" and values at 50℃ outside and 35℃ inside are indicated in "Max".
*3 Use only within the specified temperature range.
*4 Except drain pipe
*5 By IPCC 5th Report 2013
---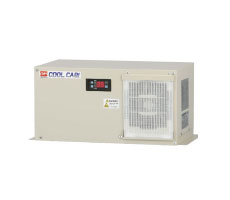 ●COOLCABI:1 pc ●Fixing bolt:4 pcs ●Washer:4 pcs ●Spring washer:4 pcs 
●Nut:4 pcs ●Drain hose:1 pc(5m) ●L joint:2 pcs ●Terminal board:1 pc
●Packing:1 pc ●Alarm explanation sheet:1 sheet ●Instruction manual:1 copy
Replacement fan

Replacement filter

Internal fan model

FM-11938P-A100-00

CF-S1
(2pcs/set)

External fan model

FM-15038M-A100-00
---
・Locate the unit so as to assure good ventilation and distance of at least 200mm from the walls or other units.
・Failure to this may degrade cooling performance of the unit and cause condensation.
・Setting temperature should be basically at 35℃. Avoid setting at an unnecessarily low value.
・Electrical connection should be made via appropriate circuit breakers.
・Do not use this product in the following places.
 --A place where corrosive or flammable gases exist in the air, or where the insulation destruction occurs
 --A place where the product may be subject to shock or vibration.
・Make sure that electrical wiring work is done by qualified electrician.
・Check for damage on packaging when the product is delivered.
・Any packaging damage may be a cause of malfunction. Make sure that the packaging is not damaged on delivery and contact your supplier.
・Disposal of refrigerant and oil sealed in the cooling circuit should be dealt with only by professional services.