CAPCON Wide range CTG screw type
---
OHM announces an upcoming change to the above products as described below.
Liquidtight cable gland CAPCON OA-WW Wide range CTG screw type
OA-WW16-04/12
OA-WW-16-04/12B
OA-WW16-04/12E
OA-WW16-04/12EB
OA-WW16-08/15
OA-WW-16-08/15B
OA-WW16-08/15E
OA-WW16-08/15EB
OA-WW22-11/20
OA-WW-22-11/20
OA-WW22-11/20E
OA-WW22-11/20EB
Changed specifications to conform to EU Low Voltage Directive EN62444:2013
CE mark is engraved on the hexagon nipple of each product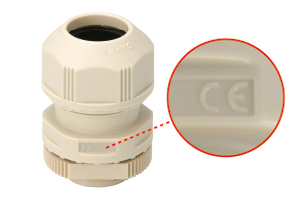 Starting from November 2021 as soon as present stock has run out
*It may happen that the existing products and new ones will be shipped together during the beginning period of switchover.
The dimensional drawing, prices and other specifications not described here are remain same.
For further details, please contact us at info-cs@ohm.co.jp.
The contents of this article are as of October 2021.